v-Fluence Blog

09/20/2010
Has Google Become the Largest Unregulated Arbiter of Health Treatment Information?
Posted by Shae Johnson and Christopher Jones.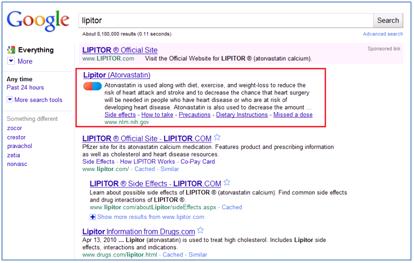 A few months ago, Google quietly changed the way it displays prescription drug search results. As of late June, when anyone enters a drug name into Google's engine, the first non-advertisement listing is a Google sanctioned drug summary. The information, pulled from the National Institutes of Health's PubMed database, lists what the medicine treats along with quick links to information on side effects, instructions for taking the medication, precautions and other information. Traditional, "organic" links now appear below this result, while advertising links remain the same.
This move came as a bit of a surprise to many observers, given Google's well-known philosophy of keeping paid and unpaid search results distinct. "The new display isn't what we traditionally think of as a paid link, but it's not exactly organic either," notes v-Fluence president Jay Byrne. "Yet these types of "endorsed" results have been an increasingly common trend and are clearly part of a larger Google business strategy we have seen evolving."
Earlier this year, Microsoft's search engine launched a similar health search feature, which it unveiled as a key part of its new "decision engine" search service. Bing Health was generally praised for offering expert opinions and easing the process of finding health information. It does this primarily by pushing traditional search results "below the fold." Searches on health topics result in four paid advertisements and a large Bing Health summary with Bing-selected major links. What we traditionally know as the organic results appear only by scrolling down in a standard browser.
Sample search results for "Lipitor" now include a Google-driven product descriptions that highlight supplemental search options, including "side effects" and "precautions."
Even within Google, these types of changes have been slowly creeping into many of the company's services.

Until recent years, while Google profited from advertising services, its main product was high-quality search.

Its company philosophy adamantly protected the distinction between purchased and organic search results.

With changes to
Google Maps links
,
changes to the search algorithm
, updates to
Google Shopping
and now Google Health, the company is increasingly positioning owned or endorsed content and services for the public in an environment it's learned to perceive as organic.

This isn't great news for specialized service providers like Mapquest, Flickr and now WebMD – who all previously benefited from Google's search listings
instead of competing
with them.
To be fair, patients have been demanding expert-filtered answers for years, at least when it comes to health information online. Sites like WebMD and Drugs.com have, up until this point, stepped in to meet this demand, but that filtering is moving toward the earliest phases of a customer's information gathering – the search engine interaction. Google had previously introduced a health-version of its OneBox service, offering users a summary section for searches on common diseases or therapeutic areas. Under the OneBox, searches on diabetes, for instance, produced a summary that included links to Google Health and other health information services like Mayo Clinic, Medline Plus and WebMD, in addition to a brief description of the disease or illness.
Considering Google's market share, the expansion of the OneBox to pharmaceutical results carries the potential to influence a large audience of patients and consumers. Google's changes will impact the visibility and traffic of brand sites and the those owned by other health information groups by claiming the most visible search result for the most commonly searched brand term.
Additionally, its presence at the top of the organic search results has the visual effect of highlighting premium ad placement. In effect, Google is increasing the value of these ad placements by pushing down the organic listings, thereby decreasing the number of organic listings that grab the user's attention. This is likely to increase the competition – and cost – for these ad spots. It also makes high earned placement more competitive, as fewer results will appear "above the fold" when people search for drug information.
For better or worse, the chances of turning back the clock on endorsed search are low. Roni Zeiger, MD, Google's Chief Health Strategist, has spoken (and written) extensively about the importance of online health information access. Microsoft Bing executives have similarly identified health as a strategic "vertical." Search engines recognize the importance of health search not only for the general public but also for their revenue. Companies who want to ensure that their web properties are visible to the public will need to be even more savvy about optimizing their sites and finding the right advertising approach.
Ultimately, whether we're talking paid, unpaid, endorsed or some yet unknown kind of search, what doesn't change is the need for companies to follow related developments and learn to engage with the search landscape that confronts them. As we've seen, the rules of online search can change almost instantaneously, and companies who follow those changes and learn to adapt will be able to remain prominent in each new environment.
The article's authors Shae Johnson and Chris Jones co-manage the dedicated online health practice for v-Fluence Interactive. Johnson overseas research and counsel on health policy and general corporate reputation issues. Jones manages the company's dedicated therapeutic area teams. These teams monitor, analyze and provide insights on how people come to, are influenced and by whom in such areas as cardiovascular disease, mental health and respiratory illness.
###
Archives

September 2010
August 2010
April 2010
March 2010
July 2009
June 2009
April 2009
March 2009
October 2008
October 2006
July 2006
May 2006